RESTORE ECOSYSTEMS TO MAXIMIZE PROPERTY REVENUE
The Barn Group designs, manages, and maintains mitigation projects. We apply our core values of integrity, responsiveness, client focus, adaptability, and creativity to stream and wetland restoration. 
Our client's success is our success. Our projects endure and are cost-effective.  We develop strategies for stream and wetland restoration that generate the maximum return on investment from an "ecological" perspective. Our mitigation bank plans assess regional banking markets and site feasibility studies. Our technical and business teams work with property owners and existing mitigation bankers to plan, establish, and manage banks. 
Our staff brings their multidisciplinary expertise to integrate services over the life of your project – from site selection to permitting and bank establishment to long-term management. Our professionals can chart a course around obstacles and articulate sound strategies for permitting, design, and implementation for ultimate success.
Our comprehensive services include field evaluations, development of site-specific mitigation plans for permit approval, construction oversight, annual monitoring and reporting success, and completing maintenance activities. With TBG's in-depth experience, we recognize issues early before they become a large problem or expense.
WHAT IS A MITIGATION BANK
A mitigation bank is a large wetland and/or series of streams that are restored or enhanced to compensate for streams or wetlands impacted during land development elsewhere. The US Army Corps of Engineers (USACE) regulates and permits those negative impacts ("debits"), and requires land developers to purchase "credits" awarded to mitigation banks for their restoration efforts.
Mitigation banking puts the burden of permitting, restoring, and maintaining high functioning wetlands and streams on environmental professionals, while simplifying and improving regulatory oversight. Before the mid-2000s and the development of mitigation banking, land developers generally were limited to restoring or enhancing wetlands at or nearby a development site to mitigate for their impacts, but these projects often failed, were costly to maintain, or resulted in poor-quality ecosystems that did not replace impacts from development. 
WHY PARTICIPATE IN MITIGATION BANKS?
Mitigation banks are inherently ecological wins because they involve environmental restoration at large scale. They emphasize large tracts of land with a higher likelihood to deliver ecological and human benefits, such as better water quality, pollutant filtering, flood control, and rare species preservation. But they also bridge the gap between conservation and economic development.
To landowners and investors, mitigation banks offer lucrative financial incentives in a low-risk, land-based investment participating in a well-established nationwide industry. Key aspects of mitigation banks include:
Voluntary landowner participation

Monetization of less productive property areas

Price controlled by non-governmental, private property owners

Successful 30-year nationwide industry

Partner in the restoration of streams, wetlands, and forests.
HOW DOES A MITIGATION BANK INVESTMENT WORK?
We have developed a proprietary pro forma that becomes the overall project's budget and timelines, so there aren't any surprises. Our budgets and timelines are always conservative to reduce risk. We estimate the lifespan of a mitigation bank to be 13 years.
Mitigation banks that we develop have a minimum return (IRR) from 25% to well over 100%. The three largest costs include land acquisition, bank establishment, and construction. These vary significantly from site to site, and state to state.
Revenues are generated from sales of released credits. The approved banking instrument, which governs your bank, includes a credit release schedule based on milestone achievement. Individual bankers determine credit prices relative to supply, demand, and competition.  Land developers call banks to buy credits. Major purchasers include Departments of Transportation, municipalities, and commercial developers. 
WHAT SERVICES DOES THE BARN GROUP PROVIDE?
The Barn Group can do it all because we have seen it all. Our mitigation banking team has a combined 60-year record in wetland and stream mitigation projects. Our projects include over 160,000 linear feet of stream restored and multiple wetlands over 18 mitigation banks. Our services include:
Site Selection
Market analysis 

Site identification 

Feasibility analysis

Investment and land acquisition
Bank Design and Establishment
Geomorphic, biological and engineering studies

Rosgen Natural Channel Design

Hydrologic & Hydraulic Modeling

Engineering plans

Prospectus and Banking Instrument preparation

Regulatory coordination and permitting 

Construction and planting oversight
Monitoring and Maintenance
Geomorphic surveys

Hydrology and groundwater analysis

Fish and macroinvertebrate surveys

Bird and bat surveys and acoustic analysis

Invasive weed control

Fencing, gates, signage
Long-term Stewardship and Easement Holder
Maintenance and property stewardship

Endowment management

Conservation Easement Holder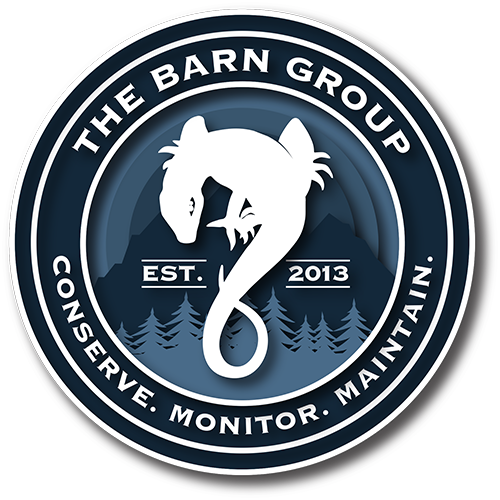 CONTACT
THE BARN GROUP
1015 TYRONE ROAD STE 520
TYRONE, GEORGIA 30290
Phone: (678) 588-6050
Email: info@thebarngroup.org